EduPlus is an advanced Education management software created with students in mind which makes it a user-friendly software for anyone trying it for the first time –
WHY EDUPLUS EDUCATION MANAGEMENT SOFTWARE?
EduPlus School Management Software is very Comprehensive and Extensive reaserch Based Education management Software Since 2015. it has All Built in Module and Very Easy to operate .Moreover Other Software Company Charging per Student Base Software Fee ,that Leads to Costly. We Adwing EduPlus is Desktop Application Software runs On Windows Platform and Can Run Without Internet and Secure your data in Easily as a Backup in Desktop Drive . Very Affordable Cost ,so that Any School Can Easily Manage.
Admission Management module is for managing Students Admission ,inquiry with All required Field , i.e. Student Name ,family detail educational and Official Document required .unique registration No.s, Admit card,Admission form also printed in single clinic . Fees Management is a Crucial for Any School , in this Software you can Manage Fees Head wise,Frequncy wise and Easily setup the Fees Head as per requirement without any hassle .even a bigineer cam manage easily . Fees Dues report ,Defaulter list ,Auto SMS for reminder and reminder letter Auto generated  in Single Clinic . Report can be Access easily for Fees related .
Easy to management your School Transport with Location and Distance wise Fee Planning . Easily Setup your route and Route Fees Plan and Manage dues and Route Wise Report When and Where required .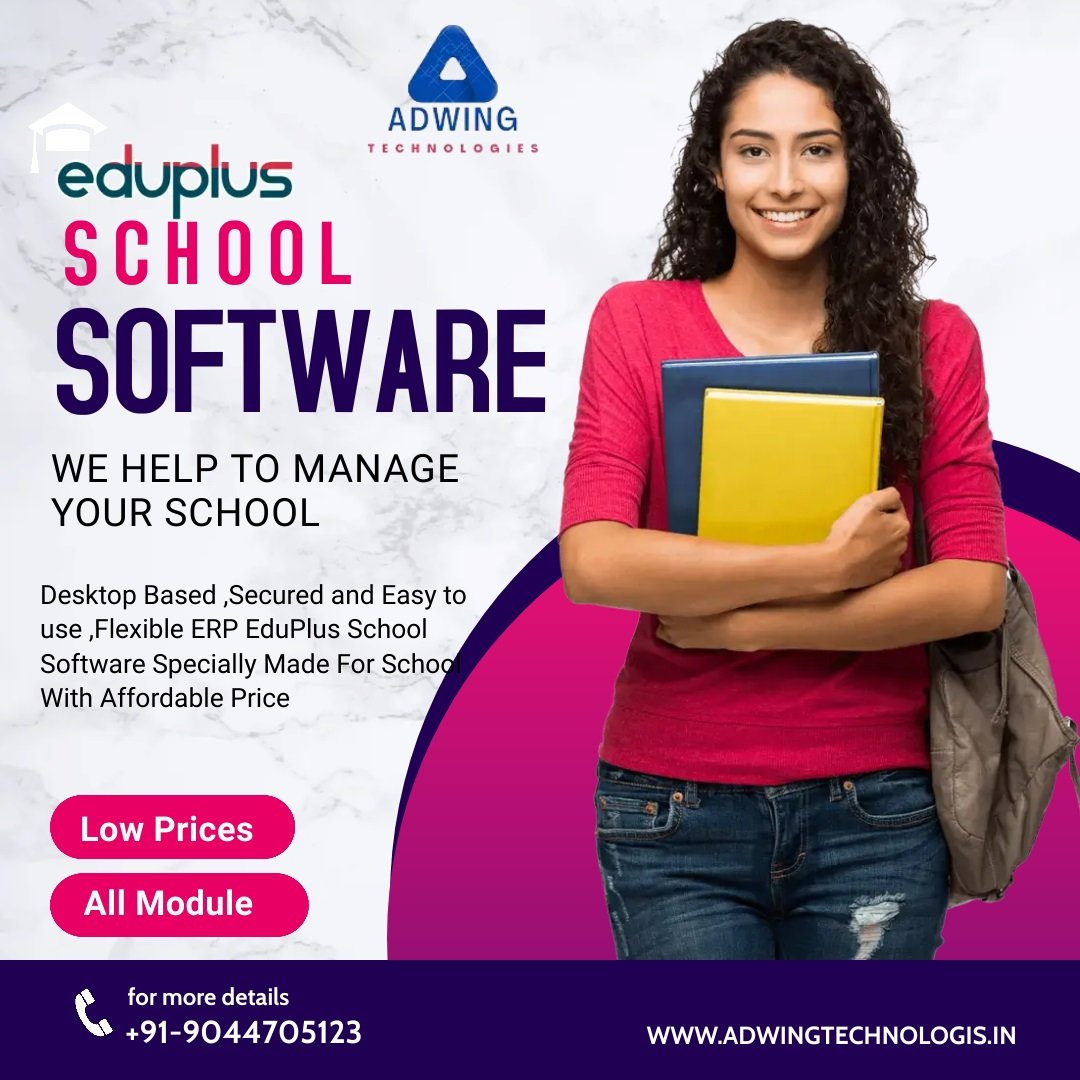 Student Registration
Student enquiry
ID Card
Front Office
Class,Section and Category Setup
Fees Management 
Fees Dues Reminder 
School Bus Registration
Transport Management 
Library Management 
Book Issues Date
Stock management
Material  Management
Account Management
Employee Salary Account
Vendor management
Messaging
SMS Integration
Reports
Student List
Notifications
Calender and To Do List
Setup
Website 
Online Facility
Web/Desktop Application
Admin/Operator Login
To know More about Our School  Software Please Contact or WhatsApp . our Software is Desktop/ Web Based Application One can Access From Anywhere . WhatSApp: 7007122137
Call +91-9044705123 For Free Demo